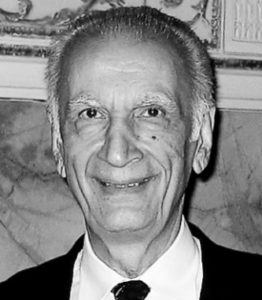 dr. shapour javanmardi, October 24, 2005
To be a channel of God's grace on earth, one must be humble. One must be ready to serve all of humanity without a trace of prejudice. One must have unshakeable faith in the power of divine assistance, and a strong, all-embracing love for all those who may cross one's path.
Dr. Shapour Javanmardi, who "welcomed all… with matchless hospitality, whose devotion to the Cause was a constant inspiration to greater action, and whose ceaseless encouragement… strengthened and uplifted so many [in their] paths of service", was indeed a channel of God's grace to those he knew. Upon his passing in October 2005, the hearts of many opened up in warm and loving remembrance of a soul who had travelled the world to spread abroad the fragrance of God's love:
"Having lived as a Bahá'í pioneer in Tunisia with his wife Mahin, he settled in Québec forty years ago (1966), and there he sustained the growth of the Bahá'í Faith. His efforts greatly contributed to the development of several nascent Bahá'í communities in Québec, including Victoriaville, Warwick, and Drummondville in the Centre-du-Québec region, as well as the community of Montréal."

"He was the most loving, warm, and self-sacrificing man I've known. He was the grandfather of some very close friends of mine, but he was so kind to all that I often thought of him as my own grandfather."

"Every time he welcomed me with his warm embrace, I returned home feeling that this was friendship, this was love, this was what it meant to be a Bahá'í."

"His warmth, his all-embracing love, his passion and courage, and his capacity to encourage, inspire and rally the troops of the All-Beloved were unique and irreplaceable."

"…we deeply lament the passing of a dear, long-time friend…"

"He was truly a fine man. Anyone who had met him should feel blessed."
In remembrance of Dr. Javanmardi, I'll share a story here that I've told and retold, about him and his wife, and how great was their faith in the power of God's assistance.
The Javanmardis settled in the Montréal area in the 1960s, at a time when the Bahá'í community around the world was growing by leaps and bounds. It seemed as though everyone was curious to hear about this new message from God, a message based on unity, love, kindness, justice, and peace. In the interest of sharing this message with as many people as possible, Bahá'ís would often travel to new places, seeking out receptive souls who were waiting to hear.
Shapour Javanmardi and his wife Mahin were no exception. Whenever they had a moment to spare from helping to build and strengthen the Bahá'í community in their hometown, they buckled up for a drive into Québec's heartland. They criss-crossed the countryside, rolling through villages and towns, stopping to speak with locals in the hopes of striking up a conversation. On one of these occasions, they had been driving around in this way for hours without much success. Tired, they began to consider turning back and heading home. But before heading back, they thought, they should at least stop somewhere and offer prayers. Maybe the prayers would attract divine confirmations and lead some pure soul towards them, towards the Cause of Bahá'u'lláh.
So they rounded the next curve and drove over the next hill, and spotted a good place to stop, in a small driveway in front of a farmhouse, surrounded by fields. There they stopped, pulled out prayer books and began to pray: For God's guidance, for His assistance, and for the triumph of His Cause. Big prayers. Beautiful prayers. The kind that reach down into the core of your being and say, "This is it." And finally, after a few more moments of reflection, they rolled back out of the driveway and turned back towards home.
Somehow, when humble and pure souls offer prayers to their Lord, He ends up answering those prayers in astonishing ways. And wouldn't you know it, that driveway they pulled into belonged to a farmer and his wife who, many years later, became the first people in the region to declare their faith in Bahá'u'lláh, in the tiny village of Warwick. More of their family members became Bahá'ís, and soon enough, in the neighbouring town of Victoriaville, a Local Spiritual Assembly was formed, the first in the region. Although his wife had passed away by that time, Dr. Javanmardi, now a member of the Regional Bahá'í Council of Québec, came to visit the members of the Assembly, treating us to lunch and telling us all about this story, the story of how those prayers were finally answered. Fifteen years later, that same Spiritual Assembly still stands, and the community has grown in size and in maturity.
What is this, if not the evidence of Divine grace? Dr. Javanmardi, we miss your warmth and your presence among us, but we honour you and what you were enabled to achieve. May you always be richly blessed, in all the worlds of God.
The original post, dr. shapour javanmardi, is one of the most popular posts on doberman pizza. Quotes from doberman pizza, Jeunesse Bahá'íe, and service in zambia. Photo: La Presse, 26 october, 2005.