Hey everyone. It's been a little while since I actually used this blog as a blog. Thanks to some encouragement from friends, a little planning and a lot of creative ideas, I've joined up with the Baha'i Blogging Challenge to breathe a little life into this quiet little website. So for the next thirty days you'll have something new to read on doberman pizza, as well as on many more Baha'i blogs.
Life has been nice and busy, as you can imagine. Qu?nh and I welcomed our second child into the world very recently, and we've been running around changing diapers and cleaning up after both of our little ones. Work and service are going quite well; even though I've been too busy with kids to be serving in quite the same way as I used to, I've been getting lots of good work done and finding new ways to serve.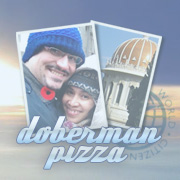 I've been blessed to receive a lot of great feedback about doberman pizza in the past little while. I've never really been very conscious of being "known" as a Baha'i blogger, but several people have mentioned to me lately how they've appreciated reading what I write here. Besides what that might bring me in terms of "fame"—which I figure I'll always be more comfortable forgetting—it's really nice to know that what I've written here and there might actually have helped someone, somewhere, to progress a little farther in their great journey of understanding. If you're one of those people, then God bless you and thanks for being here. And if you're not, well, read on and hopefully you'll find something that'll be uplifting, or at least funny.
So, what I'm planning on doing this month is part journalling (i.e. "normal" blogging) and part reviewing what I've written in the past. Depending on who you ask, some of the posts on this blog are more or less popular. I'm going to select some of them that have been particularly popular over the years over the years, and have a look back at them. Perhaps I'll have a few words to add to each of them, or perhaps they'll hit a nerve and I'll have a lot more to say. Either way, we'll take a trip back through the past fifteen years to see some of the most engaging posts doberman pizza has had to offer. If any of them have been favourites of yours, feel free to say so in the comments. And if you don't see one of your favourites show up, then tell me which one, and perhaps we can find the time to take a look back together.