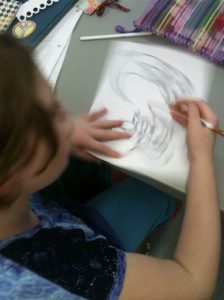 growing up baha'i, April 17, 2007
Not long ago, a Baha'i friend of mine had the idea to start a "virtues playgroup" aimed at very young children, say between 0 to 3 years of age. Our son was about that old, so we often brought him there to give him a chance to spend time with other kids in a positive, enriching environment. There was maybe fifteen minutes' worth of circle time, during which they moved about, sang songs, played simple games, and listened to stories, each one having something to do with a virtue of the week: Love, patience, courtesy, truthfulness, helpfulness, joyfulness, and so on. After the circle time, there was time for crafts, snacks, and free play. The playgroup started to become a little less regular after about a year and a half, but it came at just the right time for our boy: Some of the other kids from that group are now his best friends, and the language of virtues and spiritual qualities is now a part of his everyday life.
We didn't have a virtues playgroup when I was a kid, but I remember attending children's classes. Don't ask me what I learned, because I don't remember a lot of specifics. I do remember the surroundings being pretty, and I remember a few of my Bahá'í friends from that era. (Although when I entered university, a bunch of the Bahá'ís in my year started saying they hadn't seen me since we were in children's classes, at which point I stared at them blankly.) I also vaguely remember a few things, like artistic activities and stories that were related to the history of the Faith. Learning about Bahá'u'lláh and the Báb in children's classes may not stand out in my memory now that I'm older, but it definitely laid the foundation for me to accept the message of Bahá'u'lláh and formally declare my faith in Him later on in life.
I remember a lot more about attending 19-day Feasts. We were part of a small community that was a mixed bag of Persian and Canadian families, and there were plenty of kids. Even though there was never a formal program for us at Feasts, it generally seemed to be enough to be able to hang out with other Bahá'í kids, and it was always a highlight of the gatherings for me when I was younger. Apart from the social aspect, the atmosphere at Feast was always so welcoming and special, and that's always stuck with me:
Pleasant, restful music playing as the friends entered, prayer books in small piles on a coffee table, candles lit and softly flickering throughout… High-topped dressers filled with books like God Passes By and Lights of Guidance, with curios and mementoes, and here and there you'd see an engraving with the ringstone symbol on it, or, up on the highest shelf, you'd see a beautifully framed reproduction of the Greatest Name of God. You'd see art from many cultures along the walls, and you'd smell perfume in the air—perhaps rose or jasmine. And then, when it was time to eat, you'd get up and walk (don't run!) to the table at the back where the hosts would lay out platters of persian rice with tahdig (or "tahdeeg" or whatever), kookoo sabzi, adas polo, baghali polo, chicken drumsticks, and so on.
Qu?nh's experience was different from mine, but similar in some ways. One big difference was that she grew up in post-war Vietnam, at a time when many families struggled in poverty, including hers. On top of that, the Bahá'í Faith had been officially proscribed by the communist government after the war, meaning that large, organized gatherings—such as city-wide Feasts or children's classes—were generally impossible. Still, the Bahá'ís managed to visit each other, and sometimes they would be able to observe the 19-day Feast in small groups, perhaps one or two families at a time. Like in my case, there was never a formal children's program, and just having other Bahá'í kids to play with was enough. The food was a big draw, too—in her case, because having anything more than a simple meal was unusual enough. I'm imagining big bowls of Mi Qu?ng noodles for everyone, but she'll probably correct me on that. In either case—hers or mine—there was enough there in our childhood to give us the beginnings of a Bahá'í identity. Perhaps that was enough for us; in any case, it was what we had.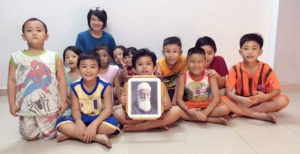 But time has flown by since our earliest days; a new generation is rising, and our children are beginning to benefit from the progress our Bahá'í communities have made from one generation to the next: Playgroups based on practicing virtues and spiritual qualities. A field-tested, ever-evolving set of lessons for children's classes used worldwide, and an ever-strengthening training institute process to ensure that teachers are always available. A simple, yet profound program for the spiritual empowerment of junior youth, to help young people at this unique stage in their lives to develop their powers of expression, their spiritual perception and their capacity to serve humanity. When I first saw the junior youth spiritual empowerment program in action, I thought to myself what a shame it was that there wasn't something like this for me when I was that age. Oh well. It's here for my children, that's what's important.
"E is for earth. The earth is but one country, and mankind its citizens…"
I sit in my office, typing words into my blog, listening to Qu?nh read the kids a Baha'i alphabet book, A Feast of ABCs. "F is for fund. Franco has saved money to give to the Baha'i fund… G is for God. Saying prayers and reading from the holy books helps Golda feel close to God…" Through the speakers at my computer, I hear Red Grammer singing to me about teaching peace all the world around, in every city and every town. And in the next song in the shuffle, I hear Ali Youssefi asking God to unite and bind together the hearts, to join in accord all the souls. When his book is done, our eldest asks to watch his Bobo & Kipi DVD—"the one where Bobo shows his perseverance". Next week, he'll be joining his friends from the virtues playgroup at a birthday party—and there's a children's devotional gathering coming up the following weekend. And I think Qu?nh and I have never been happier, or more hopeful for the future.
The original post, growing up baha'i, is one of the most popular posts on doberman pizza. Second photo courtesy of the Bahá'í Community of Vietnam.