"When so much of society invites passivity and apathy or, worse still, encourages behaviour harmful to oneself and others, a conspicuous contrast is offered by those who are enhancing the capacity of a population to cultivate and sustain a spiritually enriching pattern of community life."

Universal House of Justice, 1 July 2013
We often hear complaints that the news is too depressing, that news outlets have nothing but bloodshed, partisan bickering and chaos to report on (except the feel-good story of the night, which is usually something about cute kittens rescued from a well). Where's the real, hopeful, honest-to-goodness good news?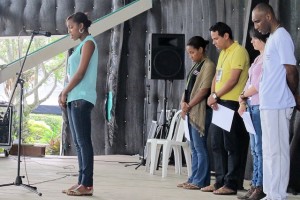 Well, if what you're looking for is something to restore your hope for humanity, then consider this. During the next few months, young people who are tired of waiting for good news will be gathering together around the world, making plans to make their own good news. These are youth who have become involved in local community-building initiatives that seek to revitalize and transform the character of their families and their neighbourhoods. Their cause? Selfless service to humanity. Rather than spending the precious moments of their youth in the pursuit of amusement, wealth, or material possessions, these young men and women, members of various races, nations and creeds, are banding together, united by a desire to heal the wounds of a broken and divided world and leave it better than the way they found it.
The leadership of the Universal House of Justice, the institution at the head of the Bahá'í Faith, has been key in both bringing together these youth and establishing what they call a "framework for action": a concrete, world-embracing one that operates at the grass-roots, helping to empower and channel the energies of individuals—youth, children and adults alike—towards service to others. Central to this framework is a process of community education, drawing from the Bahá'í Writings, that enables participants to increase their own capacity to serve by providing the knowledge, spiritual insights and skills essential to a life of service. In this process, which has been developed and put into place over several decades, studying and serving are inseparable. Thus, young people, brimming with enthusiasm, energy, and a desire to contribute to the betterment of the world, put their new knowledge into action right away, engaging in small acts of service that gradually become greater and more complex as their capacity grows, accompanying and encouraging each other as they learn together how they can best address the challenges and overcome the obstacles they face.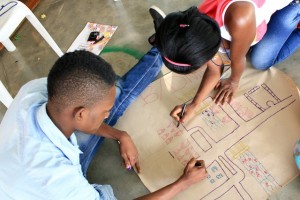 Announced earlier this year by the Universal House of Justice, the 114 youth conferences taking place this summer are the logical next step in this process of accompaniment, providing opportunities for youth to gather together with like-minded youth in their countries and regions—those young souls who long "to shed the lethargy imposed on them by society", and together, "to reflect, to commit, to steel themselves for a life of service from which blessing will flow in abundance". As they make individual and collective plans to serve alongside one another in their neighbourhoods, villages, cities, and regions, they are aware of their part in a "mighty, transforming process that will yield, in time, a global civilization reflecting the oneness of humankind."
The first few gatherings have taken place: in Cali, Colombia, Montreal, Canada, San José, Costa Rica, and Port Moresby, Papua New Guinea. Many more are yet to come, and tens of thousands of youth—perhaps hundreds of thousands—are preparing themselves for their local gatherings. Undeterred by the tremors shaking the world around them—signs of the inevitable demise of systems built upon selfish materialism, exploitation and injustice—they instead rise above them with hope, confidence, and above all, trust: trust in God's unfailing help, and in the capacity of their generation "to disentangle itself from the embroilments of a divided society."
Read about the 114 youth conferences, including official reports from each, or read the official press release about the launch of the conferences.
Read about how to prepare for the 114 youth conferences!
"We should not think about ourselves, we should take joy in the joy of others and encourage each other."

Participant at the Cali Youth Conference, 5–7 July 2013