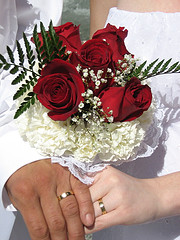 Like many of my Baha'i friends who aren't yet married, I wonder about what it takes to create a successful marriage. I wonder whether I'm strong enough, spiritual enough, or lucky enough to be able to make a "fortress for well-being" with another person and to make it last. I wonder why so many marriages end up in divorce, and fear the possibility of having to tread down that painful path. Marriage doesn't sound like something I should have so many worries about—so why do I worry?
Recently posted on one of my many subscribed mailing lists was a quite thought-provoking article about Baha'i marriage which, if it didn't answer all of my questions, at least showed me a new way I could look at them. It's called Creating a New Bahá'í Marriage Culture, written by Raelee Peirce, a Bahá'í who works as a Parent Coach in North Carolina. The article explores how parents can help give their children a positive view of marriage and relationships. A short excerpt follows to give you a taste of it:
A list of "Do-Nots" is not a great way to inspire or create acceptance of this law. Instead, we should be emphasizing the joy of sex and what a fantastic gift it is within the marriage relationship when our children are young. We need to share with our preschoolers the idea of marriage and we need to discuss the concept of finding a husband or wife when our children are in grade school rather than entertaining the idea of boyfriends and girlfriends. We need to create a family culture that does not include our children or youth engaging in frivolous boy-girl relationships. For example, when a six-year-old talks about "liking" another of the opposite sex, one should not consider it cute and exclaim to others that Jamal has a little girlfriend. As a Bahá'í parent we need to say, "Jamal, it's wonderful that you like Emma; it's great to have lots of friends. One day when you are much older you will find a girl to be your wife and have a beautiful Bahá'í family!"
Read the article. What do you think? Does it make sense to talk to our children about marriage and relationships from an early age? What about the idea of having boyfriends and girlfriends—where does that fit in? What about the lessons we learn from popular Western culture (consciously or not)—shouldn't everyone have as many boyfriends or girlfriends as possible to 'try things out' before settling on Mr. or Mrs. Right?
[Update- Sep.23, 2006]: If reading that article piqued your curiosity, then check out a related article on dating within religious communities on another Baha'i blog, Correlating.
Please leave comments on this post—it'd be nice to read people's reactions to this article. If you have personal comments you'd like to leave for me, feel free to e-mail me!
Also, speaking of chastity, Mees has something to say on the matter.
photo by boliyou (creative commons)